---

---
Stone Pavers
(800) 718-3806
---
Stone Pavers
Stone pavers are a popular form of hard landscaping outdoors that many people take pride in. There are many different types of elements such as brick, stone and concrete that can be used to produce this type of exterior hardscaping, but stone pavers are often a common option for many reasons other than just its appealing look. Using the stone pavers in a type of interlocking pattern or even placing them randomly can give it an attractive and artistic appeal that would be engaging to look at while dining on the patio or walking up the pathway to the front door as an example.

There are various types of stone pavers available such as Cobblestone, Flagstone, Roman Tiles, Granite, Travertine and Slate pavers to name a few that each have their own benefits and beauty about them. The options are numerous when it comes to choosing textured surface pavers such as non-slip to ensure safety by preventing slips and falls. Stone pavers can be used in many places such as the pool side, driveways, pathways and patios. Because of these high traffic areas, stone pavers are the best option to choose when considering strength, durability and aesthetics. Using stone pavers in different places and in different designs makes them versatile.
---
---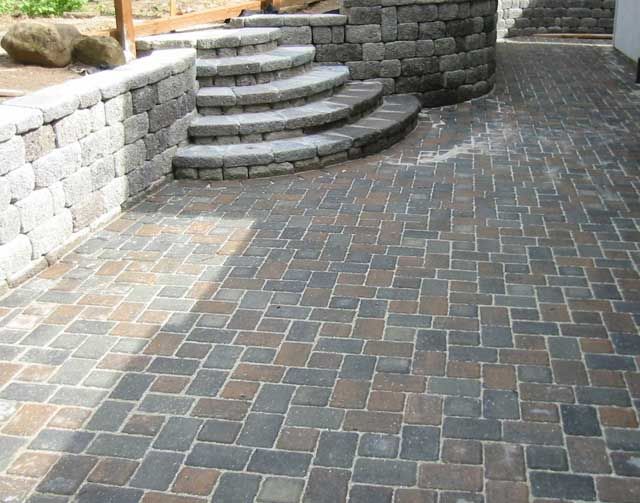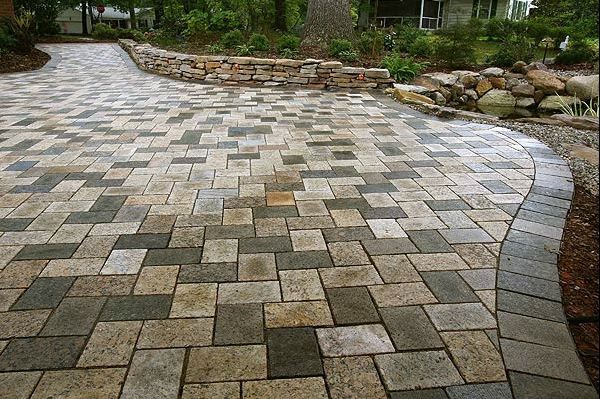 ---
Stone pavers are installed differently to how one would install tiles. Tiles are typically installed with grout to seal them in when the grout hardens. When installing exterior stone pavers, sand particles are placed all over the stone pavers and worked in to be tamped down so that it provides long lasting durability. This process requires using a vibration compact machine like a "Vibra Plate" so that the stone pavers are sealed and compacted into the sand. In addition, a sealant may be used to seal the stone pavers in by solidifying the sand. Stone pavers provide for many benefits. The process of installing stone pavers makes them not only strong and durable, but flexible enough to withstand pressures from mini earthquakes, ice storms, the after effects of ice storms and some ground erosion. This makes stone pavers ideal as they don't crack, break or buckle very easily unlike other hardscaping such as asphalt.

Stone pavers also have high compressive strengths that asphalt cannot compete with. Stone pavers are attractive, durable and strong. Although they're intended to be a permanent fixture, they can also be removed and relaid elsewhere if needed. Maintaining the stone pavers is simple. With occasional sweeping and rinsing off, it's easy to keep clean. The sealant that was used to seal the pavers in and coagulate the sand, also does double duty by acting as a protective coat to the pavers. Immediately wiping up all spills, especially if they have acidic elements to them will help make sure they maintain their long life. If cleaners have to be used, only alkaline based cleaners should be used. The benefits are endless. Between being easy to maintain and clean, versatility, durability, strength, high-quality, attractiveness and boundless design options, stone pavers the no-brainer option when it comes to adding the finishing touches to your landscaping.
---
Stone Pavers